Today I'm linking up with sweet Casey.
I've got to admit that I feel like I am crossing the line of blogland and all by saying this, but Wednesday was more than rough. I felt like someone put me on an upside down roller coaster against my will. And each time we approached the end, the operator decided to give us another round.
We woke up early Wednesday morning to head down to Children's Hospital in San Diego. Luke (8) and Jack (3) both had to get their adenoids removed. I knew it was simple and routine, but the pit of my stomach was still unsettled. Despite Luke hiding from us because he did want want to wear a "dress" (hospital gown), we were out the door with no meltdowns...
a God thing.
Jack enjoys his morning milk like a 50's business man enjoyed his martini. When given jello and apple juice instead, he didn't even flinch. He rolled with it like a champ.
Once we arrived, we had to wait a long time in the lobby and then in our pre-op room. Both boys got dressed in their child friendly hospital gowns and pants and waited patiently. I was expecting Jack to give us a run for our money, but he was super chill...
a God thing.
When Kevin walked back with them to get their "sleepy" medicine, they bravely walked through the Operating Room doors. I was a wreck, but put on my brave mama face...
a God thing.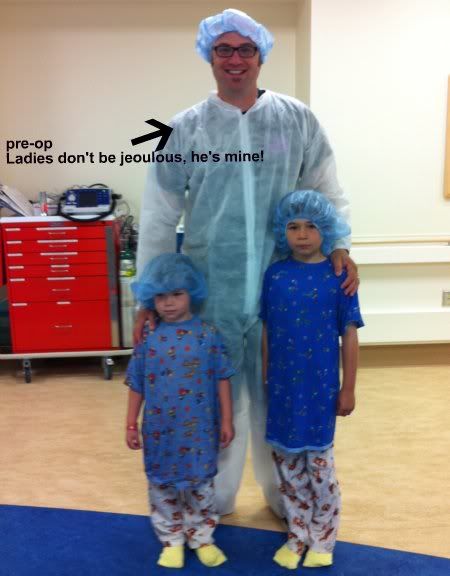 Luke woke up easily. We went to his bedside and we were able to attend and engage with him easily. Jack on the other hand, woke up suddenly and had a very difficult time figuring out where he was. I heard him wailing,
"I want my mommy"
but I had to wait to see him until the nurses gave me permission. On one hand I wanted to race to where he was because I knew my boy needed me, but on the other hand I knew the nurses had to go through their procedures 1st. Hearing him cry for me and not responding was miserable.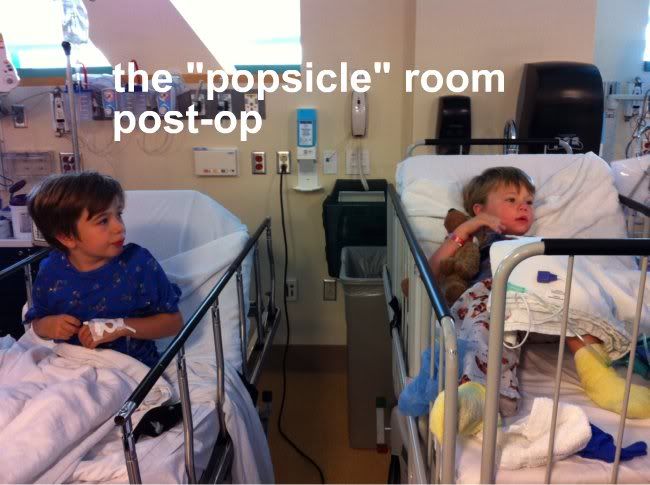 Eventually both boys had Popsicles and juice and we were given permission to leave.
On my way home my mom and I were texting. She has lupus like me. When she was pregnant with me, her lupus flared so dangerously that the doctors told my dad that neither of us were going to make it.
God had another plan.
There were two other times when her life was hanging on the ledge. God brought her through it. As a child it was terrifying. I can only imagine now that I'm a mother how horrifying it must have been for her.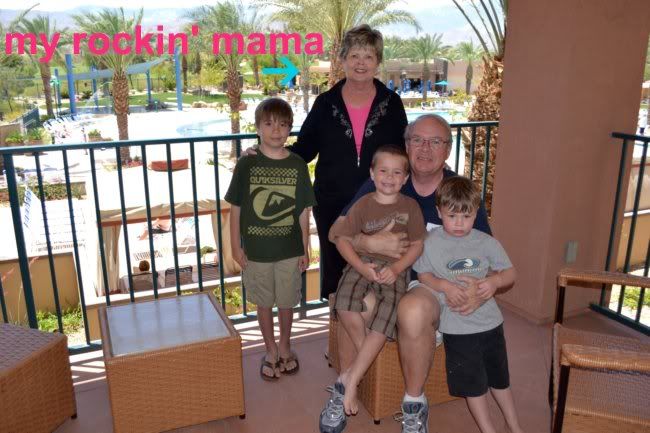 Her lupus has significantly damaged her kidneys. She is on the transplant list and possibly nearing dialysis. Her doctor is running tests again on Monday and the decision will be made. It is a scary place to have a parent who is sick. I certainly don't want to see her go through this. She has jumped through so many hoops before this. Please pray with me that this will be one more hoop that she can jump through. Pray that her kidney function improves. Pray that she will not have to begin dialysis.
Thank you dear friends. You are a
God thing
to me.
Much love,
Katie
P.S. Please link up on Saturday and Sunday for
It's a God Thing
. I will have a special give away for those who comment and/or post! HUGS!