Ever since I saw my friend,
Greta
, post her version of waxed leaves, I knew I had to give it a try. It just took me 2 years to finally do it. It seemed like it may be too messy for my taste, but it turned out to be easy and relatively mess free.
All you need is wax, which you purchase in the baking aisle of your grocery store (near canning supplies), an old pot or disposable cooking pan, wax paper, and leaves.
My kids had more fun collecting leaves than dipping them. They were searching for the biggest and most colorful leaves possible.
We melted the wax in the oven at 300 degrees. Keep your oven on and continue to rewarm wax every few minutes.
You have to do a quick swoosh...a little "one, two" and lift it up, let the wax drip, and place on your wax paper to dry.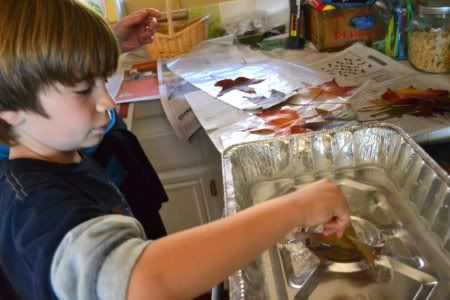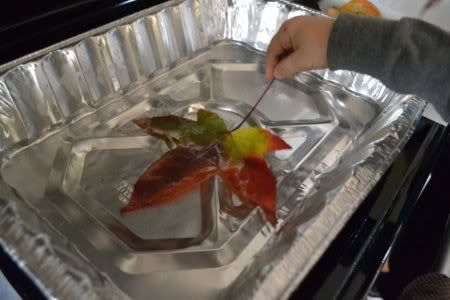 If you leave it in the wax more than 1-2 seconds, a thick waxy coat builds up on the leaf=no bueno.
There are a ton of options for decorating with the leaves.
We took the easy way out and decorated the Thanksgiving table, including the kid table. Did you have kid table this year?
However, you can create a mobile, a banner, wrap twine around the staircase railing and clip the leaves with clothes pins (what I originally had planned), etc. The options for creativity are endless.
I hope you each had a wonderful Thanksgiving!
Much love,
Katie