Hi Friends!
I am super excited to invite you to join
The Share and Care Project.
Karen from
Happily Ever After
and I have a huge desire and vision to reach the homeless this
Christmas
season. You may have participated in a similar project if you joined the November happy day project at
Joy's Hope
.
Here's the low down:
Create a gallon size zip lock bag with the following items (just suggestions):
-chapstick (pack of 3 at 99 Cent Store)
-wisps disposible toothbrushes (99 Cent Store)
-deoderant
-gloves (99 Cent Store)
-beanies (99 Cent Store)
-hand or foot warmers (Dollar bins at Target)
-granola bar
-nuts
-raisins
-juice box/water bottle
-Christmas cookies
-Homemade Christmas cards
Since Karen and I live in the same town, we are going to host a Share and Care party with our friends and their children. The children will make all the cards and decorate sugar cookies. However, it can be something you do with your family, neighbors, church, MOPS group, etc.
I will keep my 3 bags (one for each of kids) in my car. When I see someone in need standing outside of Walmart or off a freeway entrance, I will hand them the bag. If you do it with a group, I'm sure you can check with your nearest shelter and see if they accept donations.
Please join us in sharing God's love during the Christmas season as we celebrate the gift of Jesus.
Also, please don't forget to grab a button on the right and share the project on your blog. Let's see how many lives we can bless.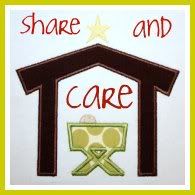 Much love,
Katie