I had big plans for last Friday night.
I saw images of a merry family singing along to Christmas songs on our way to find the perfect Christmas tree.
Instead, we got off to a very late start. I was finishing my mojo chicken noodle soup for a friend who suffered a heart attack this week. She is in her forties and it was discovered that she has a very rare heart disease which caused the attack.
Thank God that her heart will heal on its own and that she is finally home and healing.
Um, talk about putting things into perspective during the hustle and bustle of the holidays.
So as we ordered our children to use the bathroom, get their shoes on, and get in the car while I threw dirty pots into the sink and gathered the soup, salad, and cookies, we all began to crumble.
We weren't even out of the house yet.
On our drive to find the award winning tree, we listened to 3 boys bicker and complain.
We took away minutes for extra playtime.
Threatened to turn around.
It was ugly.
I may have even muttered under my breath, "I hate Christmas."
And as Jack, our wild 4 year old, ran around the tree lot picking up every piece of twine and played hide and go seek behind the trees we were inspecting, I let my frustration boil over and marched him to the car.
My perfect Christmas images and spirit were slowly crashing in sync.
And when we got home, my vision of our family of 5 joyfully decorating the tree, while watching a Christmas movie and munching on popcorn as we took breaks to laugh and chat, crashed too.
Jack was tipping the tree over as he insisted on climbing on the couch arm to reach the highest branches.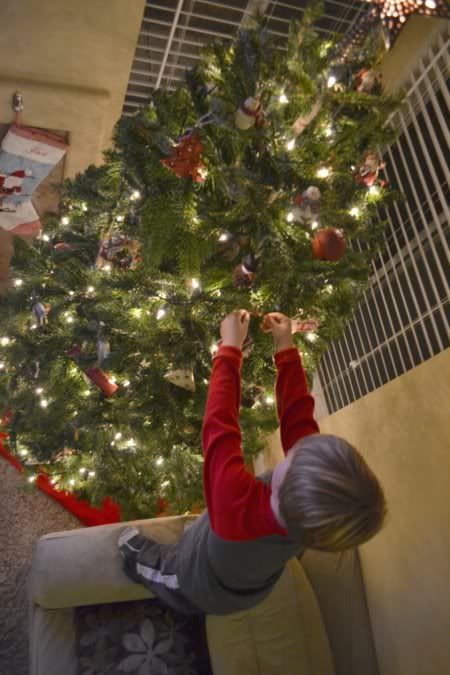 Charlie grew frustrated with the ornaments that slipped from his appointed branches.
And well, Luke, chose to put stamps and return labels on our Christmas cards.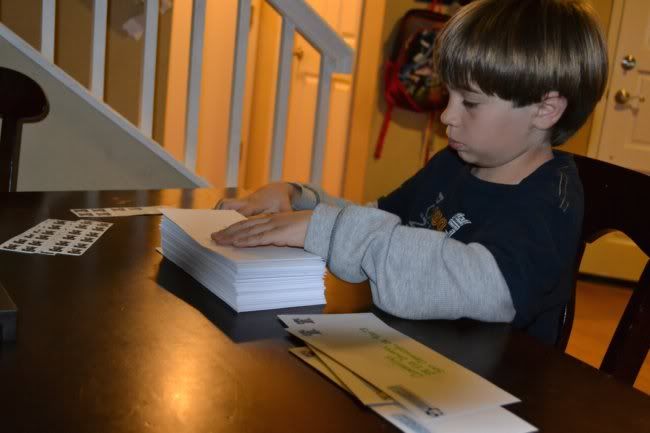 Before you think he's all that, you must know that it was a job. He's trying to earn money for a very expensive Lego set. He's had all week to do the job, but he chose tree decorating as the right time.
Eventually, the star was set by Jack. It was his turn this year. It was Jack's 1st time. The star fell down and broke before we even had a chance to photograph it.
But, Kevin who is a handy hubby was able to mend it.
In exhaustion and defeat, we put the boys in their pajamas and crawled into my bed. Each boy picked a story from our Christmas Story box.
I could feel their warm bodies inch towards mine. A sweet shaved headed 5 year old rested his head on my shoulder. I could feel his warm breath.
I felt the tightness subside. My heart was not racing.
It clicked.
This is what Christmas is about.
Our family.
Togetherness.
Simple moments to be grateful for.
Reading stories about the joy of the season in which we celebrate the birth of our
King
.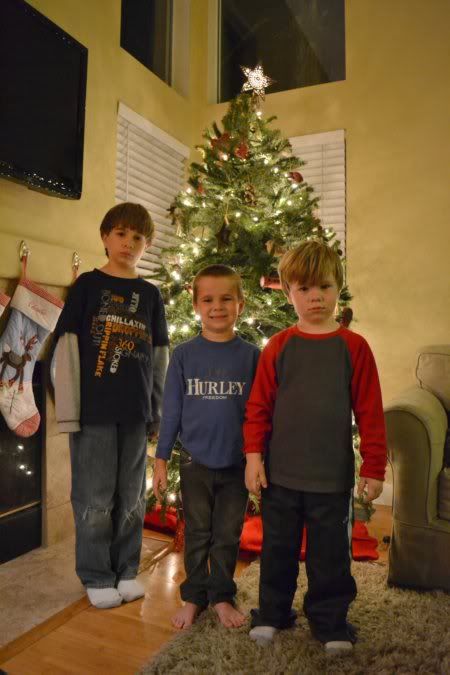 My hope is that you may each find the simplicity of the Christmas season.
Much love,
Katie