There is something about the turn of seasons that makes my heart go pitter patter.
Perhaps it is the ability to wear jeans without sweating or feeling the air blowing cooler breaths through our windows as we unwind after the kids have gone to sleep.
When the shift from summer to fall occurs, I am more motivated to get my craft on.
It is like someone flicked on the switch to my craft fusebox.
After our search for the most unique pumpkins, we arrived home and made google eyes pumpkins with candy corn votives for our dining room center piece.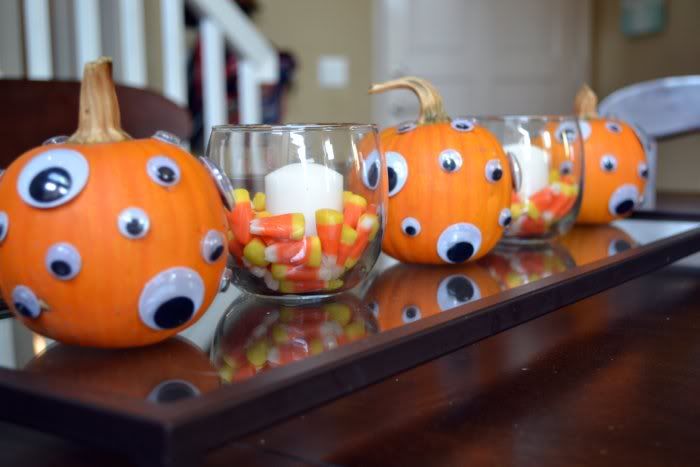 The glass stand is from Crate and Barrel and usually houses 3 potted succulents since they are the only plants that I manage NOT to kill.
I bought the google eyes, candles, and glass votive holders at the Dollar Tree. If anything ever happens to my husband, I am going to marry the Dollar Tree--not that I want anything to happen to my husband, though.
I put a dab of hot glue on the pumpkin and each boy placed the eyes on their own pumpkin.
This craft was as easy as pie.
Speaking of pie, we went apple picking in Julian. There's going to be some serious baking going on in this casa.
What about you? Has Fall set in for you yet? What is your favorite thing about Fall?
Much love,
Katie