I'll be honest with you. My time devoted to reading my bible and setting an established time of studying God's word and praying is intermittent.
Not by intention.
Life just catches me off guard and of all the things that I put to the side, having a routine of quiet time with God is one of them.
Here's the thing, though. A few years back, I would feel "un-Christian" for admitting that to you. The guilt would push me even further away.
But, I can tell you full heartedly today that I am saved by Grace.
And no matter how inconsistent I am, God is faithful to me.
I talk to Him all day long.
I pray in the shower.
I pray while I'm driving.
I even pray as I am on the treadmill.
For I know that God does not just meet me at an appointed place and time.
However, I am beyond blessed when I do make that time. Over the last two days I sat down and read two devotionals from My Daily Bread.
The first one was about our tone of voice.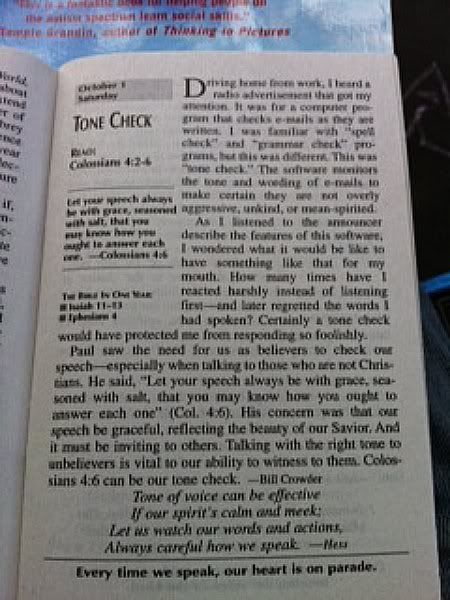 BAM!
Just what I have been wrestling with daily. Of all the days for me to pick up My Daily Bread and read, it was written for me. I have struggled with the way I'm responding in anger to my kids. My words and temper come before grace. No bueno, friends.
The second day, I opened it up and it was about loneliness and how we use noise and busyness to occupy the loneliness that we feel, for running from God's voice, or for thinking for ourselves.
Double Bam!
I have been particularly struggling with friendships lately. I am blessed to have dear friends from high school, college, and from the different cities where we have lived, but they are not connected to one another. I have felt loneliness like never before. I have not been part of a core circle of girlfriends since high school and there are times when I wonder what is wrong with me and why I can't seem to gain acceptance beyond friendly acquaintance status within preformed group of friends, whether it be at MOPS, church, or the boys' school.
I am a tough cookie and I am not usually on the sensitive side, but I do get my feelings hurt. It is hard to admit that.
God knew that I'd sit down to read My Daily Bread on those two days. He met me there. He spoke to my heart. I love how He continues to show me that He knows my needs.
So I will slow down.
I will seek.
I will find.
I will listen.
Much love,
Katie
Linking up with
Jami.